Vaughan Garage Door Repair > Garage Door Spring Repair
Garage Door Spring Repair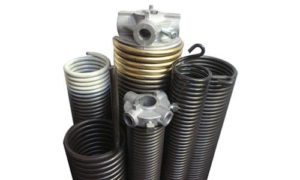 Looking for a reliable and competent garage door spring repair service provider in Toronto? Well then, Vaughan Garage Door Repair is the one name you can surely rely on.
At Vaughan Garage Door Repair, we are a team of skilled and qualified professionals that are committed to providing quick and cost-effective services to our clients in Toronto and ensuring that they get more value than they expect from us!
With years of experience in the industry, our technicians possess the proficiency to fix even the most complex of garage door spring issues and perform excellent tune-ups on your garage door for years of trouble-free performance.
We not only understand the importance of garage door safety but also are committed to providing the best solutions for eliminating the hazards of faulty or malfunctioning garage door springs.
Here are some of the major reasons why you can place your unwavering trust in us:
In addition to providing excellent repair services for fixing any faulty or malfunctioning garage door springs, we also offer periodic tune-up plans for ensuring preventive maintenance of your garage doors for years of trouble-free usage.
Our team at Vaughan Garage Door Repair consists of only the most highly trained and passionate garage technicians who are capable of quickly identifying your garage door spring troubles and finding the most effective solutions for correcting them.
At Vaughan Garage Door Repair, we make use of only the highest quality tools and garage door parts procured directly from the manufacturer or the wholesale distributors to ensure high standards of workmanship.
In addition to that, we also offer an exclusive one-year guarantee on all the garage door spring replacements that we use for fixing your door!
Fix your appointment today by calling us on our contact number or dropping us a message here.
We Also Offer:
Damaged Garage Door Panels
Broken Springs
Garage Door Opener Repair
Garage Door Parts Replacement
Broken Garage Door Cable Repair
Garage Door Insulation Replacement
Garage Door Torque Master Conversion
Garage Door Track Adjustment